​
A weekly newsletter delivering sibling loss specific grief resources, support and validation, coping strategies, sibling loss stories, news from The Broken Pack, and much more- including exclusive content and opportunities for subscribers.
​
Hello, Reader!
Grief Breaks
Does your grief ever feel overwhelming and heavy or hard to carry? Sometimes, grief catches us off-guard, and it feels just as it did in the moment you learned of the loss. Some days it is in the background and, while never light, is at those moments easier to carry.
Lately, my own sibling grief has felt heavy. I was reminded of something by mentor and grief and loss expert, Dr. Robert Niemeyer, that we don't have to carry the grief all the time. Just like we put our young children down for a nap, we can also put grief down for a nap or a rest.
Sure, that is easier said than done and you may be wondering what on earth that means.
What it means is that, sometimes, we may find ourselves wanting to hold on to our late siblings or others we have lost to make sure they have not been forgotten, that we don't forget them, or to let others know how much they mattered.
While this is meaningful, it can become a lot to carry. It becomes heavy and clouds our day-to-day living.
Rest assured, you won't forget them AND they mattered. They still do.
Like the adage says, we grieve because we loved. So, unfortunately, your grief will endure and be present for the rest of your life.
However, it is okay to take a break from feeling and focusing on grief.
Okay- But how do you take a grief break?
Again, this is easier said than done and will vary for everyone. Here are some ideas:
Find or reconnect with a hobby.

Go for a coffee or tea date with a friend (and talk about other things).

Take a class.

Go for a walk or a hike.

Go outdoors.

Call an old friend.

Exercise.

Play or listen to music.

Read.

Learn about mindfulness and incorporate it into a daily practice.

Bake or cook.

Travel or make travel plans.

Focus on what is in front of you that you may have been avoiding (people, work, chores, etc.).

Do something that makes you laugh.

Play with kids or grandkids.

Tackle that bucket list.
The idea is you are re-engaging in life without a focus on the loss. You aren't avoiding the loss or engaging in avoidant coping (more on this another day).
My own grief break
These past few weeks have been difficult for a number of reasons. I was and am still very focused on furthering the vision I have for The Broken Pack™. In doing so, I waiver from times of purpose and meaning to feeling overwhelmed and sad in missing my brother. I have also begun to find joy in all I do- even with my grief so ever present.
However, this has required me to intentionally take grief breaks.
And as such, I have committed to – for at least the month of July- to take a walk every day outside, alone. On these breaks I have little in the way of rules for myself other than to be mindfully present and aware of my surroundings. If grief or other difficult thoughts or feelings come up, I simply notice them and then re-focus on what my senses are telling me. What am I seeing, hearing, smelling, touching, and if applicable tasting (although walking and chewing gum is not a strength. So, tasting is not one I often have on my walks)?
An Offer Exclusive for Wild Grief Subscribers!
Did you Miss the presale of the course? Now until Wednesday July 12th, as a subscriber of Wild Grief, you can purchase the course for $250. The course is valued at $499. It is self-paced with modules being released weekly. And, in this initial offering of the course includes one-on-one time with me as well as access to the online community space! Use Code WG250520 at checkout.
Click on the photo below or here to learn more about our first course on sharing your story.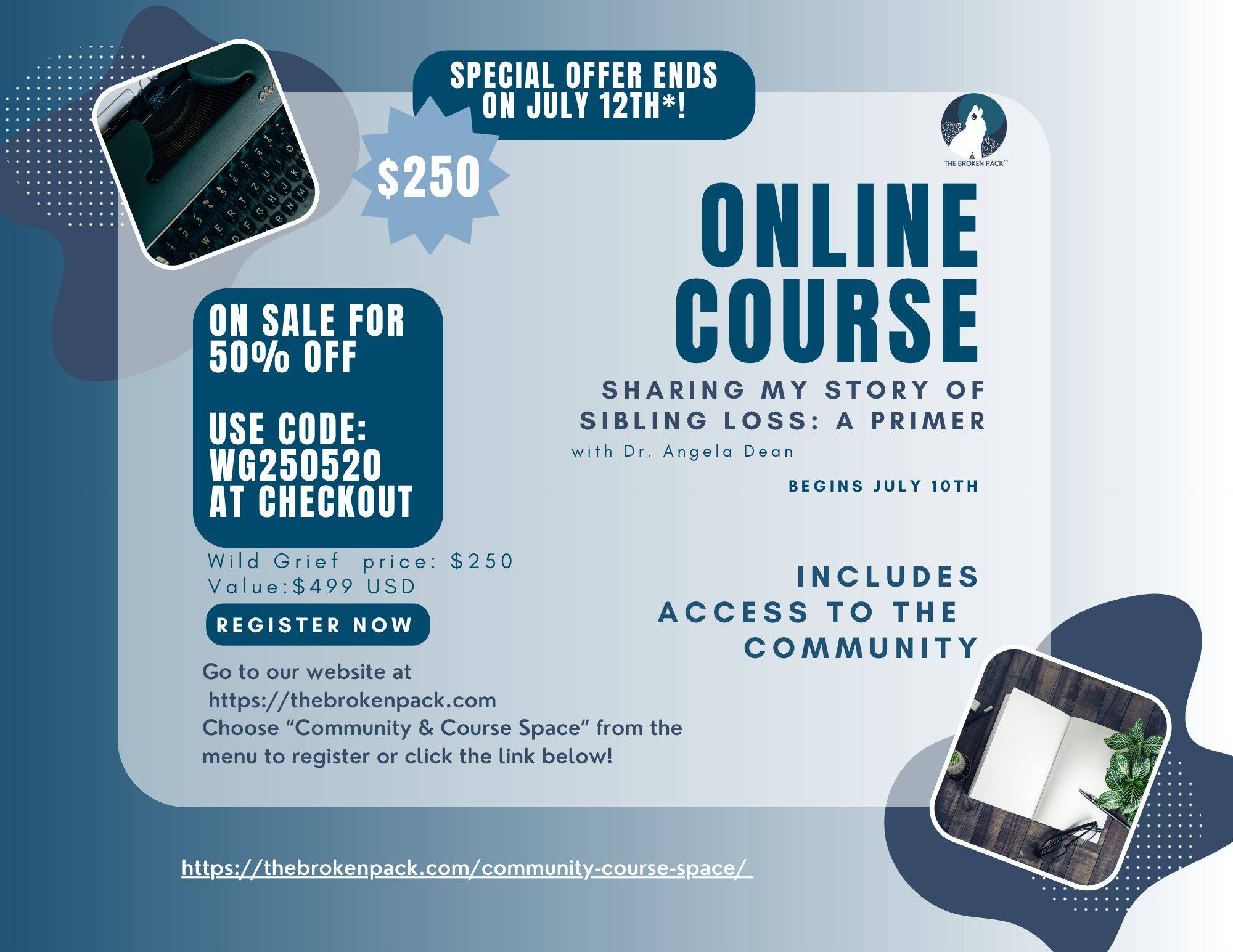 ​
How can you support us?
Listen, follow, like, share, and subscribe to our social media and podcasts.

Please support the ongoing efforts of The Broken Pack by shopping the store (link with shopping cart below) or by making a gift (link with upward arrow below).

Stay tuned for our announcements!

Catch-up and listen to the podcast. Season 2 is being released weekly now.

Keep reading these newsletters and share with others to help us get the word out!

If this was forwarded to you go here to subscribe.
Warmly,
Angela